Next Post >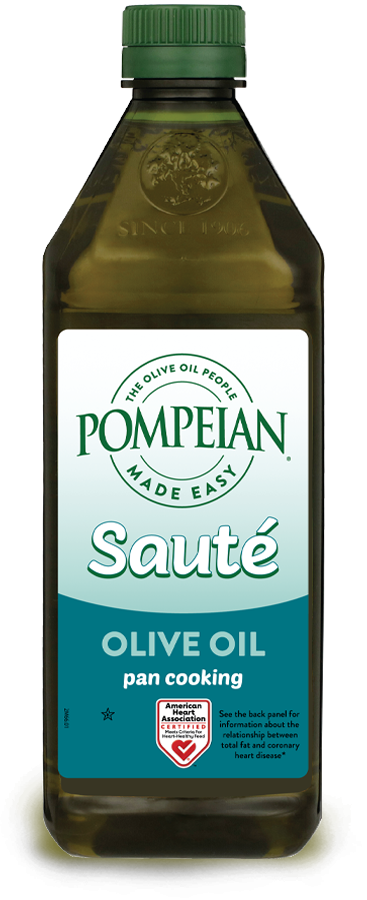 Made Easy
Sauté Olive Oil
Olive oil with all of the health benefits and none of the guesswork! Pompeian Made Easy Sauté Olive Oil is expertly crafted for pan cooking. With an extra smooth taste, this olive oil is perfect for sautéing your favorite veggies, proteins or even whipping up a stir-fry.
HEALTH & BEAUTY BENEFITS OF OLIVE OIL
NUTRITION FACTS
Serving Size
Servings Per Container
1 Tbsp (15mL)
64
AMOUNT PER SERVING
Calories

120

Fat Calories 120
% DAILY VALUE*
Total Fat
14g
17%

Saturated Fat

2g
9%

Trans Fat

0g

Polyunsaturated Fat

1.5g

Monounsaturated Fat

10g
Cholesterol
0mg
0%
Sodium
0mg
0%
Total Carbohydrate
0g
0%
Protein
0g
0%
Not a significant source of cholesterol, dietary fiber, total sugars, added sugars, vitamin D, calcium, iron, and added potassium. *Percent Daily Values (DV) are based on 2,000 calorie diet.
*Limited and not conclusive scientific evidence suggests that eating about 2 tablespoons (23 grams) of olive oil daily may reduce the risk of coronary heart disease due to the monounsaturated fat in olive oil. To achieve this possible benefit, olive oil is to replace a similar amount of saturated fat and not increase the total number of calories you eat in a day. One serving of this product contains 13.6 grams of olive oil. Heart-Check certification does not apply to recipes or suggested uses unless expressly stated.
VISIT HEARTCHECK.ORG for more information on heart-healthy living, to learn more about American Heart Association's Food Certification Program and view a list of currently certified products.